The conventional way of formally dealing with a consistently under-performing employee is to begin a disciplinary process.  And the groundwork for being able to do this requires an employer to have in place a rigorous disciplinary process of which all employees have been made aware.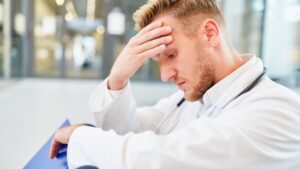 If the employer fails to correctly follow disciplinary procedures they are leaving themselves exposed to an unfair dismissal case in the event that they dismiss an employee.  And the employer could lose such an unfair dismissal case on procedural grounds – even if the dismissal is entirely legitimate on performance grounds.  (Note that it is also problematic for employers if they do not have such procedures or if they do have them but have failed to make employees aware of them.)
Before we dive into disciplinary procedures, you might like this guide featuring advice from other Irish employers on how to reshape your business and workplace culture in 2021 – download the summary guide now.
[et_bloom_inline optin_id=optin_2]
As part of a disciplinary process an employee may be put on a performance improvement plan – or PIP.  This can often entail the setting of performance targets with which the employee agrees and which the employee is expected to meet over a particular period of time.  If the employee reaches all the goals they're taken off the PIP.  If they fail to meet the goals then the process can escalate to the next step.
A PIP can theoretically help an under-performing employee to improve – but it can also protect the employer from an unfair dismissal claim in the event that the employee is eventually dismissed on performance grounds.
However, what happens if an employee, whether in an attempt to short-circuit a disciplinary process or for some other reason, asks for a package?  This can be tempting for an employer, for example, if the employer has entered into this process precisely because they are dissatisfied with the employee's performance.
Why might the employee do this?  If the employee is on a PIP, they might feel that they won't reach the performance goals set but feel that the employer might favour a quick settlement rather than a drawn out disciplinary process.  Or the employee may feel that some element of trust has been damaged by the employer – and they may have correspondingly decided that they don't want to work there any longer.  Or the employee might not be involved in a performance process at all, may be aware of other roles being made redundant, and may simply find the prospect of a package attractive.
Of course the employee on a PIP can simply quit – but they might feel that they have potentially something to gain by asking for a package, for example, money for each year of service.
However, no matter what may lie behind the employee's request for a package, employers still need to take extreme care if such a request is received.  This is largely because it is actually roles that are made redundant, not people.  So if the employee is in a crucial role, and is the only person employed in that role, then that role cannot be made redundant – no matter how attractive the idea seems to the employer.
What's required is for the employer to take the long view – in spite of there being a short-term attraction to ending the disciplinary process and giving the employee a redundancy package.  Instead, the employer should adopt a glass-half-full approach, making it clear that they want the employee to succeed and that they believe the employee can succeed.   Discipline is a process that is designed to improve performance or change behaviour – it is not focused on punishment or terminating employment unless of course the employee has failed to improve despite a series of warnings from their employer or is guilty of an act of gross misconduct.
So – is there any way for the employer to avoid a lengthy disciplinary process without legally exposing themselves?  What about the employer taking the initiative – and asking the employee if they wish to accept some sort of severance package?  Some employers have sought to proactively put such "compromise agreements" in place – but that path can be fraught with danger.
It is legally safest for the employer if it is the employee who initiates the dialogue on a compromise agreement.  If the employee is forthcoming with the view that they don't think things are going to work out, then the employer can react.  But the employer needs to do so while making it abundantly clear that they are reacting rather than proactively suggesting.  If the employee is saying that it's not going to work out, then the company can say "That's unfortunate – because we value you.  But, if it's your considered opinion that you're better off in a new role elsewhere, then perhaps we can discuss something".
Whilst it is legally safest for the employer to react, in certain circumstances such a dialogue over a severance package can be initiated by the employer.  However, this needs to be handled by a skilled negotiator who has a firm understanding of employment law.
In any such dialogue it is important for the employer to appreciate that there is no such thing as an off-the-record discussion between either employer and employee or between employer and trade union.  All such discussions/correspondence can later be used or admitted as evidence against an employer.  Legal professionals on the other hand can engage in "Without Prejudice" discussions and/or correspondence with each other during settlement negotiations and, generally, anything written or said during that period will not later be admitted as evidence.  Note, however, that emerging UK law may in time prompt change in Ireland such that even legal professionals could become unable to engage in "Without Prejudice" discussions and/or correspondence.
Compromise or severance agreements will typically include the employee waiving their rights in exchange for any money they receive.  Most employees who sign waivers in severance agreements never attempt to challenge them.  There are, however, employees who sign waivers and who later file a claim on the grounds that the agreement is invalid.
One case that illustrates this is between Eoin Kerrigan and Smurfit Kappa Limited c/o Smurfit Kappa. In this particular case, the employee was awarded €10,000 even though he had already accepted the sum of €25,280 in full and final settlement of all claims arising out of his employment. Although this case largely centred on the employee's selection for redundancy, the WRC noted in their ruling that the employee had not been advised by the company to seek independent legal advice before he signed the settlement agreement.
The employer therefore must ensure the negotiations are handled carefully, that the employee is satisfied with the terms of the agreement, and that a qualified legal professional drafts the agreement.  The waiver in a severance agreement generally is valid when an employee knowingly and voluntarily consents to the waiver. It is therefore in an employer's best interest to ensure that the employee has access to independent legal advice (usually paid for by the employer) or advice from a trade union representative.
So there is a route to compromise agreements – but it's safest for the employer if it's the employee who takes the first steps along that route.  If you need help in navigating this area, call Mary Cullen or Liam Barton on 056 770 1060 or email mcullen@insighthr.ie.